Due to an auspicious occasion my wife had promised the spirits of our land a new house. Of course she had not told me that, but a few days later she said "I promised to build new spirit houses, is that ok?" She knows I am not a real fan of spending money on things that are in my opinion useless. But we live here together so I thought, "Why not? What harm could be done?"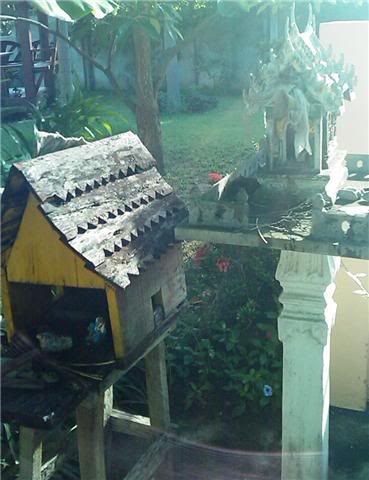 The Old Spirit Houses
We've lived here already for about four years and the old Spirit Houses must be as old as the house, so now about 15 years. I always just wanted to renovate them, but building (buying) new ones is also okay. Another reason why I did not worry too much was that I was under the impression that the old Spirit Houses would be removed and replaced by new ones on the same place. How wrong I could be? While discussing that I learned that the old Spirit Houses are actually on the wrong place. So let me tell you what I learned.
You might have noticed that I speak about spirit 'houses', yes there are two, something you might have noticed while traveling in Thailand. And they are two different spirit houses, for different kind of spirits, of course. The one thing that is very easy to notice is that one spirit house is standing on one pole (leg) and that the other one is standing on four or six legs. There is also a significant difference in the style of the roofs. But I did not know this yet.
So my wife told me that the old Spirit Houses are actually on the wrong place, so there had to be a new place made for the new Spirit Houses. To be sure of where to build the new Spirit Houses a specialist was needed. So my wife had a chat with one of the neighbors who knows somebody in another village who knows all about spirit houses. And conveniently, they also sell spirit houses. So the next morning a Thai boy of about 20 came to our house to look for where the new Spirit Houses must be built.
Where should our new Spirit Houses be standing?
Well north of the house you are living in. I am now wondering how you do that when your house consists of more buildings, but let's not make it more difficult than it already would become.
And they need to be built on a floor that is higher than the floor which the house is already standing on.
And they should not be standing in the shadow of the house.
And the spirits should be able to see the road.
The young spirit specialist pointed at a place in the middle of the garden. This was for me the moment to very politely interfere in the decision of the new the location. I was informed as to the 'rules' of the new location and said, 'So actually this would also be a good place?' while pointing to a place a bit closer to the house. The young spirit specialist was looking around (and did understand that I was not having my garden fucked-up by new spirit houses) and acclaimed that the place I pointed out was actually the best place.
So now the next question was, how big must this 'floor' be for the New Spirit Houses? A few calculations came to 3meter by 3½meter and about 60 to 70cm high. Wait a minute, I am not going to be building a guesthouse! As we had already discussed that we would buy small sized spirit houses we would not need a floor that big. Let's say 2½meter by 2meter would be ok, right? And 10cm higher than the floor of our house is higher, so 50cm high would be ok, right?
Now the last question was of course what was the best day to bless the new Spirit Houses? The young spirit specialist made some calculations again and declared 21 May a very good day. So at 7 o'clock in the morning he would come here to bless the new Spirit Houses. And of course he will also bless the old Spirit Houses and ask the spirits to move to their new house. And all that for the symbolic price of 6 baht. And of course a donation is up to you. My wife decided that she would give a donation of 1000 baht.
So now we had to look around to buy new Spirit Houses. To learn a bit about prices we roamed the street in search of new Spirit Houses. And we learned that for a price of between 4500 baht and 6000 baht we would be able to buy 2 Spirit Houses and also 2 tables to offer food to the spirits. One morning I asked my wife what else was needed for the new Spirit Houses. She actually did not know, but she would go ask the young spirit specialist. We drove to see him and check-out what kind of spirit houses they sell. They actually did not have much choice, but we could go with him to the factory where he buys them. Far? No, just at the other side of route 36. Well 'just at the other side of route 36' was a trip of 25km. We arrived at a spirit house factory. Hundreds of spirit house in different colors and different sizes were on display there. Suddenly I realized that choosing a new Spirit House was not as easy as I thought it would be. Of course my wife and I have a bit different taste, but what the heck, they are her spirits, so 'up-to-you' was my reply.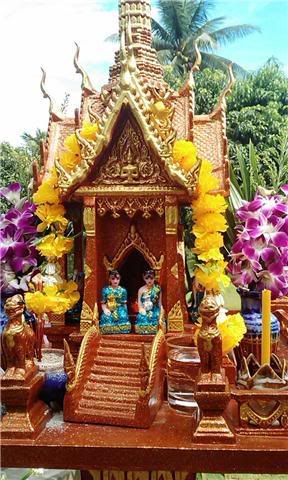 Luckily we managed to agree on a reasonably sized & priced set of spirit houses. For 5500 baht we bought 2 spirit houses and 2 tables; all made of cement and painted in a kind of red/brown with gold colored flowers. And, they would be delivered the day before the blessing and they would be installed on the still to be built 'floor'.
Next mission was to find people to build the floor for the new Spirit Houses. In mind came a few Burmese people who had been working at our house before. We visited them at their 'house' (actually an old shack on an abounded mu-baan). The deal was made and for 2500 baht they would come the next day to build the new cement 'floor'. Of course they came a bit later than we had planned. Here again was an important job for me, to take care that they would really build what 'we' (actually I) planned would be built. Because we foreigners might have a plan, but Thais have their own agenda. The first day it was too hot to work for long, so it was not even half finished. So the next day they started early and came with more people. Also one man brought along his beautiful 18-years young daughter, working with stones and cement. Well, let's not get distracted. That might end-up in another story. When the floor was finished it was actually not as disturbing as I thought it would be.
After the floor was finished one would think all was ready for the big day. No of course not, there needed to be bought some other things for the New Spirit Houses. And, of course, it needs to be bought at a special place at the local market at Naklua. That little shop under that big old tree of course.
For each spirit house you need
A horse & an elephant
A young lady & man
2 vases for fresh flowers
2 candle stands
1 cup met sand for the incent sticks
1 Yellow plastic flower
1 drinking glass for water (there goes my whisky glass)
For the 4-legged spirit house
An old man & old lady
Cigars
And of course some white rope, 4 fresh flowers and food like chicken, fruit, sweet dessert and a bottle of Lao Kao. After this final shopping all was done and we just had to wait for the delivery of our New Spirit Houses. Of course they delivered them a few days earlier, but that did not matter. All was installed on the new floor and it looked good. And our cats were happy with the new place to play around. My wife of course was not so happy with the cats playing in the spirit houses.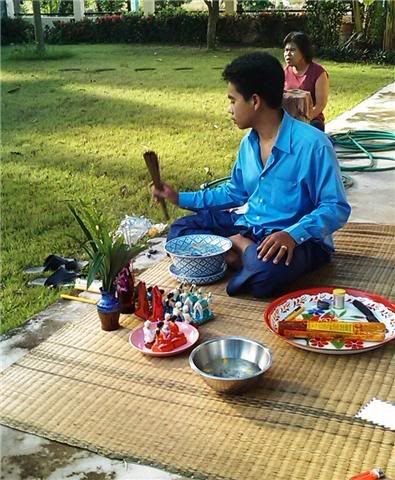 The morning of the big day my wife woke up at 5 in the morning to prepare fresh food for the spirits (which of course would be eaten by herself and her friends). At about 7.30 the young spirit specialist arrived and the ceremony of blessing the New & Old Spirit Houses could begin. As also all people gathering at the ceremony will be blessed, there were some friends of my wife at the ceremony also.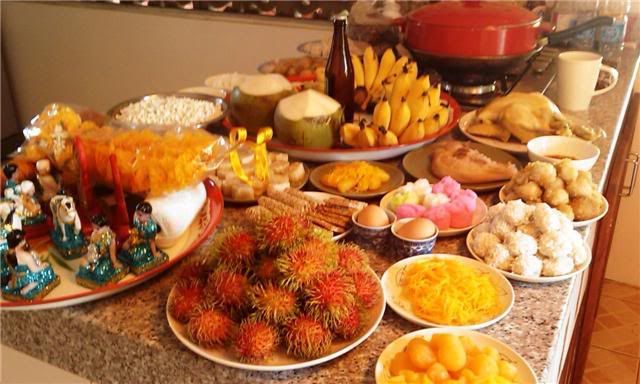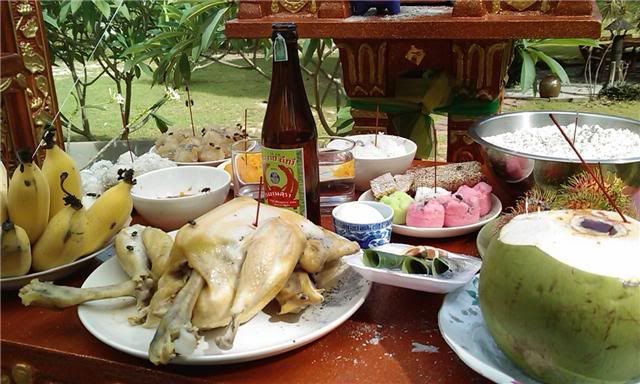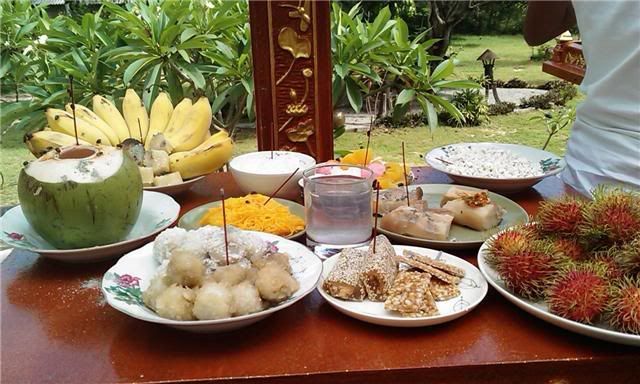 All food and other things were placed on the right place on the New Spirit Houses and with the ritual water spraying the New Spirit Houses & all of us were blessed. Now the Old Spirit Houses were blessed and asked for forgiveness for replacing them. Now we had to remove the Old Spirit Houses. I had thought just to remove the houses but the whole cement pole had to be removed also! And this cement pole is molded into the cement! That was the moment I was more than happy with some friends of my wife helping me, or actually doing most of the work. And some neighbors came to help with a big hammer and with some tough breaking of cement we managed to remove the cement pole.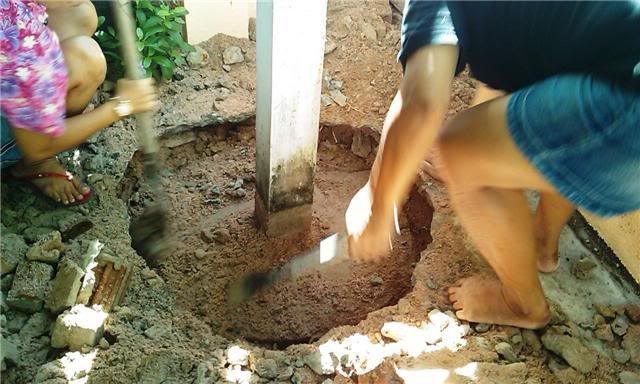 Removing the Old Spirit House Post
Now all was done and the young spirit specialist received his salary of 6 baht and, of course, an envelope with a 'donation'. But now what to do with the old spirit houses? Now I came to learn where all those old spirit houses under big old trees were coming from. We loaded the heavy load of the cement spirit house, the cement pole and the the wooden 4-leg spirit house into the back of my truck. Behind a nearby temple is a small lake and next to that lake is a big old tree. And that's where of course there are many old spirit houses. As is ours now also.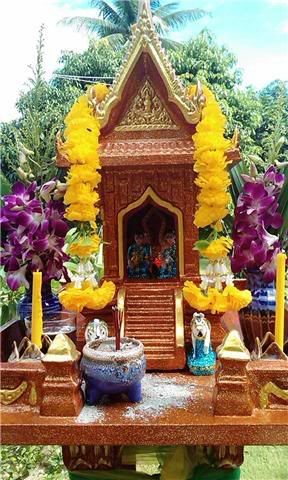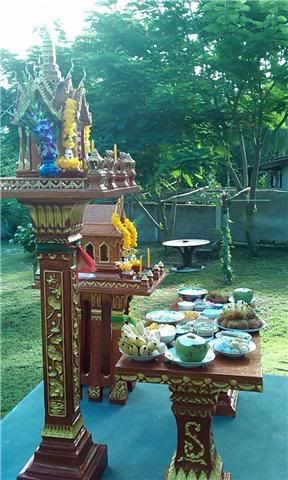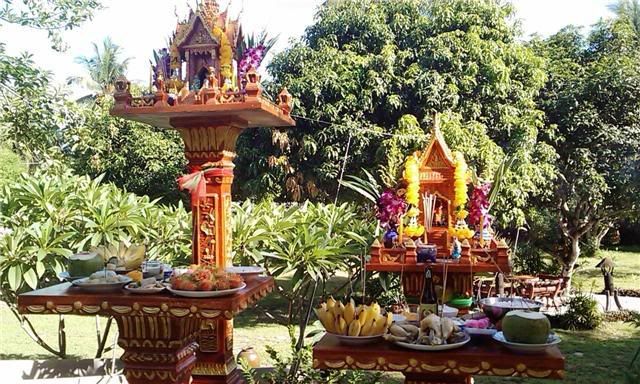 We now live happily together with our new Spirit Houses and our cats enjoy their new place to play. And my wife gives weekly (on Buddha day) new flowers and fruit to the spirits. Now that the spirits are comfortable in their new houses my wife does not have to be afraid anymore to be alone at home on Buddha day.
It all makes sense now to me.
© Chang Noi. All rights reserved by the author.