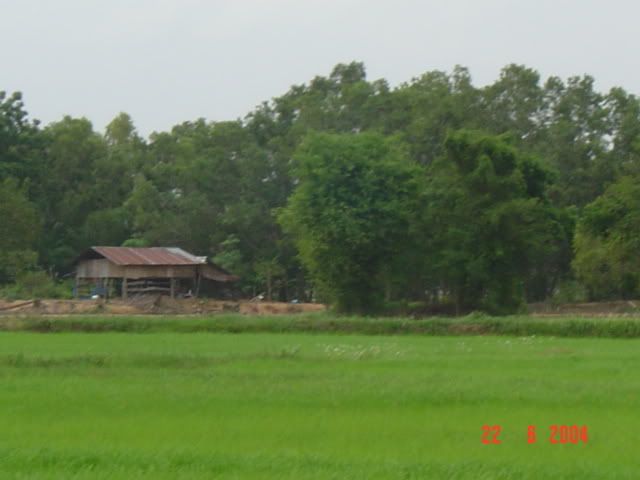 More Songs Of The Dead
A Village Life Story
PART 1
The friendly old lady across the street from our village house was very sick the past few weeks. She's a nice old gal, always making a point of coming to see me whenever I am in the village, just to say hello, and maybe give me a Buddhist good luck prayer-string for my wrist. A nice old lady of eighty years old. Her wrinkled and toothless face always wore a smile, and her cackling old lady laugh always brought a smile to my own grizzled mug. A happy soul. One of the many good people of the village whom I've befriended, and look forward to seeing when I'm there.
Her husband was always in his front yard giving the local kids and guys a haircut with his ancient, well oiled, electric hair clippers, and worn, well honed, barber's type scissors. He always would wave to me when he'd spy me out in front my house, or over at Sis Mun's 'Isaan Emporium and Lao Khao Shop' next door to my house, which also sits across from his front yard, and where I'd more than likely be sipping a cool brew with the local ladies trying to fend off the heat.
He usually would wave me to come over and get my own haircut, which I always politely refused to do. I'd seen his handiwork on the skulls of my fellow villagers. He either gave a bowl haircut, closely resembling the one worn by Moe of the 'Three Stooges' fame, or one just like the one the original Curly of the same Three Stooges fame had. Both not my style of haircut, and both seeming to be his sole repertoire.
He was a nice old guy, and like some nice guys he had a bit of a drinking problem at times. He was a binge drinker, which he tried to overcome, with varying degrees of success. Being human, he was not always successful. The problem was he also had a severe case of diabetes. Drinking alcohol is not really the smartest thing to do when you have this disease. It can kill you. It did him one fine day when I was away in the states. I missed his tambon (funeral).
It's weird now not seeing him plying his trade in the front yard, well, hobby actually, he wasn't a true barber by training, but then his skills weren't below the level of what his clients demanded for a haircut. We always had a lot of little Thai Isaan village Moes and Curlys running about while he was alive. Plus he gave these haircuts for free to one and all who'd put their locks and scalp under his blade and comb, and loudly vibrating electric shearers. I've noticed the boys and guys in the neighborhood now seem a bit shabbier looking; their hair always seems a bit too long now, the time between cuts much longer than before when they could always plunk their ass on a stool under the old man's fairly steady hand. The village is poorer for his passing. I miss him and his smiling face.
He died about a year ago.
Not long after his death, a few months at most, his wife, this friendly woman who always went out of her way to say hello to this foreign stranger to her village, took ill. After seeing the doctor she was diagnosed with stomach/intestinal cancer. Advanced. Non-operable. I couldn't think of a worse disease for anyone to have. By all accounts this is a horrible disease, very painful. During the next few months I saw her less and less around the village and around our soi. Her visits were less frequent when I was there in the village. So my wife and I would sometimes visit her and bring her some chicken soup.
As I was leaving to return to the states I went to the village the day before I left as I usually do to say goodbye to everyone, Mama and her older sister, and all the other family members and friends I have there. (I have two homes here in Thailand. One in the village that I built some years ago, and one in the larger city of Surin, which I rent.) I always do this, and we have a bit of a going-away party where I am festooned with the Buddha good luck prayer-strings on my wrists, for good luck in my travels and time away from them all. Most prayers tend to be the 'may you win the lottery and come back a rich man' and 'have good luck in airplane' and that sort of stuff. The old lady was feeling good that day and made the walk across the street and joined the other village well-wishers in placing the strings on my wrists. Her smile was still in place on her withered face, though she walked very slowly, and hunched over with the disease eating her guts out from within. Her pain was obvious, but she is a strong old village lass, used to pain, discomfort, and disease.
I left for the states after flying down to Bangkok from Surin on Air Andaman and catching a Northwest Airlines flight the following day. I was still festooned with wrist strings like a newly wed which caused some funny looks from fellow farangs. You need to wear them for three days before cutting them off for the luck that resides within them to work for you. I rely on this luck, I'll take any good luck offered usually, and follow the customs attached to these offerings, and I wear them the requisite three days. It's also bad form to cut them off yourself, someone else should do this. So usually one of my sons, or my daughter, do this for me once I'm back in the land of the free and home of the brave. Boston. I have them leave one on me, and wear it as a reminder of my new home in Thailand, and as a way of showing my respect for the customs and beliefs of these simple religious and superstitious people that have become my second family. When I return they see this lone string still on my wrist, sometimes months later, and seem to get a big charge out of my wearing it all that time. They seem to know it is a way I show respect for them and their culture, and it is also a way I'm told to get maximum benefit from the good luck of the string. Some wear them until they rot off. I always hope I won't have to be away so long that mine would do this.
So far the good luck has held up.
(to be continued)
Cent
(The Central Scrutinizer)