I looked down at the top of the girl's head as she did her work. She was incredibly cute, with wavy hair cut moderately short, and a topknot to keep it out of her face while she was at work.
When I first went into the cubicle with her, I was feeling good that I would be spending a fair bit of time with her in my line of sight, and I discovered that she was very good at what she did.
This little lady was interesting; when I entered her cubicle, I saw a book, and I was curious to know what she was reading, so I picked it up and looked. The cover was in a script that I couldn't read, a totally alien set of characters, so I looked inside, and I immediately knew that it was an English phrase-book, but the script... It could have been Khmer, but it didn't look quite right for that, and it certainly wasn't Lao - that's too much like Thai to trick me.
When she returned with the bowl for the hot water, I put on my best Thai and asked her where she was from, but that only drew a puzzled look from her. Hell!
Cutting through all of what followed, I eventually worked out - and she confirmed - that she was [and presumably still is] a Karen from Burma.
What she was doing working in Bangkok, and whether she was legally there, I don't know, but she was just too damn cute for me to ask questions about her immigration status. We might not have been able to communicate, but I was happy to sit back and enjoy the treatment at her hands
As I was looking down to where her head was bobbing about, occasionally turning this way or that, the manageress of the establishment came in and started to take care of my hands. Yep, I was in for a manicure and pedicure, and the Little Burmese Foot Mistress was doing my toes. Actually, as it turns out, she was doing my feet and lower legs as well as the toes.
One sits there, and has one's hands carefully washed, the fingernails cut and filed, the cuticles trimmed, lotion of some kind applied to lower arms and hands, and finally a gentle and brief massage of these slippery-with-lotion hands. I don't know about anyone else's experience, but this gives me an extremely pleasant feeling of well-being, a feeling that I am being cared for in a semi-luxurious way. Pampered.
And of course, the feet get a similar treatment, but it seems that more care is taken over the feet; any thickened or rough skin gets rubbed with a board which rubs away any dead or excess skin. This board, and the treatment it provides, is certainly worth a more detailed mention.
Watching the LBFM using it, I was reminded of an eraser [I'll resist the temptation to use the Australian term "rubber"] being used on a bit of paper. The board would be the paper and my feet the erasers, and the rubbing was causing the skin to roll up and fall away as the process was applied. Particularly targeted by this treatment are any callouses, which get rubbed off.
So there I was with lovely soft hands, and sparkling toe-nails, and a happy little smile on my face. I even managed to persuade my LBFM to lower her sanitary mask and allow me to take a photo of her.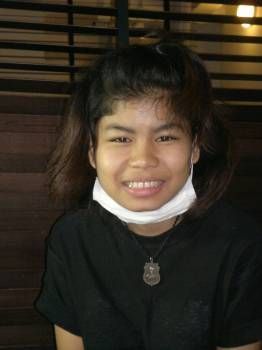 I'll be gone from Thailand in a few days, but I know that I'll look at her photo occasionally and think good thoughts. The sad part is that when I return next year, she will probably be gone, never to be seen again in the Kingdom.
But she'll be there in my memory.